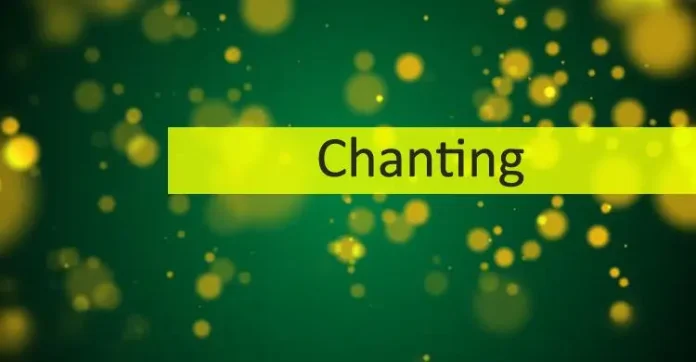 I have been chanting since early childhood. During my school years, I was blessed to grow up in the spiritual atmosphere of Chinmaya Mission. We were taught many Vedic mantras and devotional bhajans. Bhagavad Gita chanting was an integral part of the curriculum and I remember participating in Gita chanting competitions in school, a Chinmaya tradition. Even though I did not have an understanding of the deep meanings of the chants at that age, they left a deep impression on my being. I also studied Sanskrit till eighth grade.
When I graduated school and went on to college this knowledge stayed with me and gave me a lot of inner strength and peace. When I got certified and started teaching yoga in 2006, I began introducing chanting in my classes along with asana and pranayama. What I observed was that students, including foreign, responded very positively to the sounds and vibrations of the mantras. It affected them very deeply. I began combining mantras with asana practice and found that it deepened the essence of practice greatly.
During this time of teaching and practicing, I was also introduced to the Yoga Sutras (aphorisms) of Patanjali. I began chanting the sutras and subsequently studying them. Around this time, I also started assisting my teacher Seema Sondhi in international teacher trainings and I found that the trainees were very interested in the deep teachings of the sutras as well as in the chanting of Vedic mantras. I started looking to get a formal certification in Vedic chanting. I joined a course with the Krishnamacharya Healing and Yoga Foundation in Chennai in 2015. In addition, I also began a teacher's training certification in the tradition Krishnamacharya. I completed both in 2017. Studying in the tradition of Krishnamacharya further underlined the importance of the being a representative of our rich traditional knowledge of yoga. Bereft of the wisdom of the Vedas, Yoga Sutras and other yogic texts, yoga will be reduced to mere physical exercise undermining it's depth. My vision for the future is for all yoga practitioners and teachers to understand the true purpose of yoga's tools through the study of the traditional scriptures.
Chitra currently resides in Bangalore, India. In addition to one-to-one and group classes, she also teaches online classes. You can reach her at chitrayoga70@gmail.com.