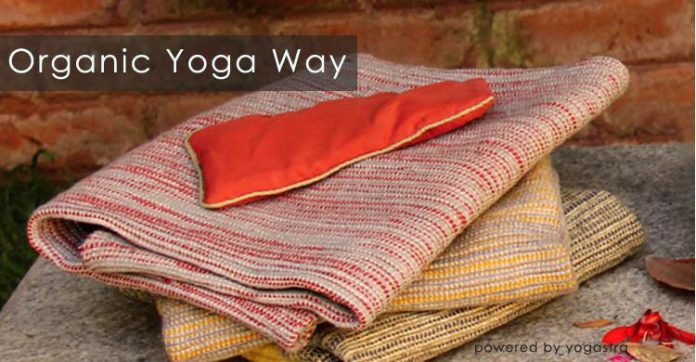 Yoga's popularity is increasing all over the world. This ancient practice is so empowering that can heal, refurbish and revitalise any soul. We all live in a world which is fast and vast still we are confined in our own spaces so much that we hardly able to experience our inner silent world and look beyond our cosmetic lives. Yoga has thus found a space in our lives to get over the stress and unhealthy lifestyle. We have embraced yoga in our lives in its various avatars be it pranayama, meditation, ashtanga yoga, hatha yoga, bhakti yoga, yoga nidra, etc. It is considered one remedy for all our needs and that doesn't come with any caveat.
No doubt we exercise each day but are we really getting the benefits in full measure? It's something we aren't sure about. Because exercise requires cleanliness and hygienic conditions. It requires not just clean and green environment but also pollution and chemical free accessories. Normally we use mats made up of chemicals like rubber, PVC, polyurethane or a natural material in combination of these chemicals. Such chemicals if inhaled during exercise can cause irreparable damage to our system. Moreover the processes involved in making or dumping them is a threat to entire ecosystem.
We owe thanks to the initiatives like Deivee and Yogastra for bringing organic and pure solutions from mother nature to our doorsteps.
They understand the philosophy behind the interdependence of nature and mankind and that nature will offer what we give it back. The products produced by them are home grown and completely organic be it the apparels made from organic cotton, bags, mat sprays, socks, copper bottles, headbands, mats and incense sticks from Deivee or the aroma therapy mats made from turmeric, tulsi,neem, vetiver, triphala, pomegranate shells and red sandalwood, eye pillows,towels, masks and elixir coconut oil from Yogastra.
Everything prepared by Deivee or Yogastra involves natural contents and eco-friendly processes to ensure the products have the essence of natural herbs imbibed in them and ensure maximum customer satisfaction. They also fulfill the social responsibility of paying their fair share to its cultivators and the makers of these products. Moreover these products are recyclable so we can use them without any guilt of degrading the nature.
So why not experience the organic aura and make our daily yogic journey wholesome.
Also read
Types of Yoga: 13 Different Styles & Forms of Yoga
Who is Adiyogi? The First Yogi and Source of Yoga
Full History of Yoga (Origin, Evolution, Development With Timeline)