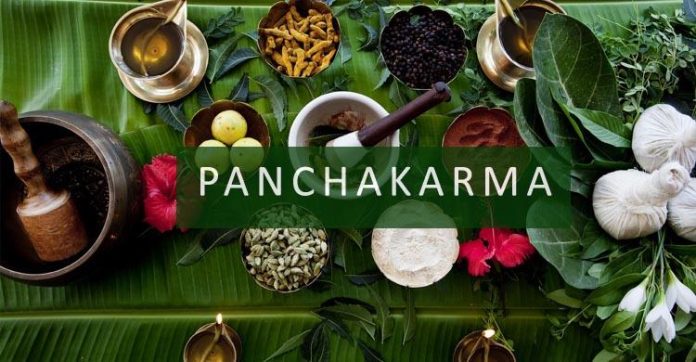 The resort I stayed in Kerela was home for one week, not long enough. Unknowing, I went to do panchakarma, a sort of Ayurvedic detox. In my mind I was thinking massage, scrubs, and maybe some other oil treatments. I came to find there were in fact other oil treatments involved, enemas.
Enemas and self-induced vomiting were my little surprise of the visit. Also to my surprise was the ease of doing these acts. It's funny how when you are with a group a people, all receiving the same treatments, the dinner conversation turns into discussion about bowel movements. I felt like I was in a nursing home, talking about meds, the doctors, and what to expect of forcing 4 litres of medicated water down the hatch.
I never pictured waking up to a 6am wakeup call saying, "Morning mam, vomit treatment." Hard not to joke about the process when a sweet, tiny Indian lady is cheering you on to puke, all the while saying, good vomiting! While the treatments sound tortuous, it was all very relaxing. The majority of the then were not so abrasive.
It's amazing how challenging doing nothing can be. I'm not a huge fan of being on a schedule but had been with all the yoga trainings and events. The doctors say the only thing you have to do is rest, eat, nap, drink the medicated water, and relax. As much as I enjoy said things, I was getting a little restless. The resort was not near much but nature and there were a few things I wanted to see in the south.
I ended up going on a 3 hour house boat cruise. The driver of the boat took me to a village where of course, I was fed, and greeted by people collecting some of the states endless supply of coconuts. The river was beautiful and very relaxing, just what the doctor ordered. Aside from this,I only went to the city once and otherwise stared at the wall and took walks. With nothing to to, I couldn't bring myself to read or write. It's nice to disconnect and just be with yourself, too often we forget this with our iPhones gripped in hand.
The doctored and staff of Athreya went above and beyond my expectations. The doctor was even kind enough to take me to an astrologer and translate. The reception would spend countless time arranging and booking needs, the kitchen staff really put love in the food, and the grounds keeper was very attentive. The women doing the treatments were beyond nurturing. The care given was like your own mothers, so loving. The resort was actually more beautiful than the pictures alluded, this is unheard of in India!
My only regret was not staying longer. Panchakarma should take at least two weeks but the doctors squeezed in a lot of treatments for me, sometimes 4-5/day. I'd leave my room heading for treatments thinking, oh again? You want me to wake up to go relax? Fine, I guess I will oblige. My astrologer told me I'd be married at 31.5 years. I told them I'd be back for my honeymoon with my husband, because nothing says I love you like an enema.
Being that I had a shorter time, they sent me home to do purgation on my own. So as I write this all with fond memories, I dash to the toilet. I've got nothing to do but beat jet lag so the detox continues. I thought I got out of India without any toilet issues, better to be self-induced then returning with the timeless classic, Delhi belly.