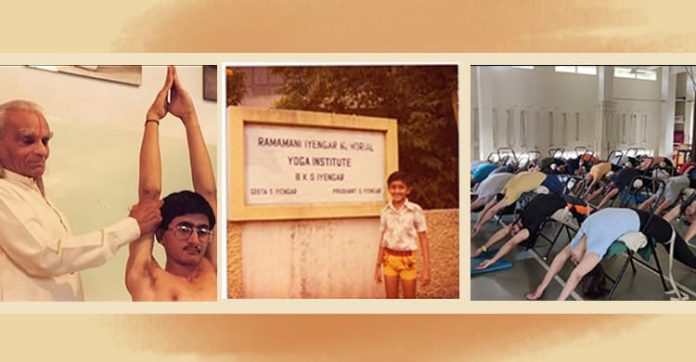 Abhay Javakhedkar's Yoga journey has been nothing short of soulful! Feel the peace, exhilaration, and relaxation firsthand as you join him on his enlightening journey through this Chat on the Mat.
Abhay Javakhedkar's parents were already students of Guruji at RIMYI, so it's no surprise that Abhay has been devoted to the practice of yoga since childhood. Since then, Iyengar Yoga has been part of his life at every stage.
For Abhay, Iyengar Yoga is more than just an exercise regimen – it's worthy of a lifetime of commitment and dedication.
Abhay had a unique connection with his yogic spirituality. His three main teachers – Guruji BKS Iyengar, Geetaji, and Prashant sir – had encouraged him to teach and conduct yoga sessions in various places like NDA and H.A., continuing the work of his teachers.
Abhay's deep commitment to the practice and discipline of yoga was evident in the strength of his bond with the ancient art of yoga shastra and its true significance. He had taken his teachings diligently and practiced with passion.
A Brief About Abhay Javakhedkar
Abhay Javakhedkar is a brilliant Iyengar yoga teacher who learned the yogic discipline from Sri BKS Iyengar, Geeta Iyengar, and Prashant Iyengar for more than 35 years at Ramamani Iyengar Memorial Yoga Institute, Pune.
Abhay's parents were already the disciples of Guruji and shared a special bond with Iyengars. Abhay's dedication to yoga acquired valuable yogic wisdom and experience teaching yoga classes with Guruji and Geetaji. This paved the way for his broad understanding of Yogshastra.
Abhay has shared his yogic wisdom to train and heal people from diverse age groups, backgrounds, and professions. He has mentored children in the age group of 8-20 years, guided women in acquiring well-being, and has worked as a therapist for people with different physical and psychological, and physiological issues.
He has conducted yoga classes for sportspeople and mentored IT professionals for 2 years. He has also been a visiting faculty at NDA and various educational institutes of repute, apart from working as an Official Yoga Examiner at Doon School.
Abhay's pleasant demeanor and focused approach to teachings draw followers from different parts of the world to his reputed institute Iyengar Yog Sadhana, Pune, which was nurtured under the aegis of Guruji. As a torchbearer of Guruji's teachings, Abhay has traveled to several countries spreading the yogic light through his programs.
Chat on The Mat With Abhay Javakhedkar
In this Chat on the Mat, we will dive deeper into the journey of Abhay Jhavakhedkar, what motivated him towards Yoga, and how this practice affected his perceptions at every stage of his life.
hellomyyoga: How do you see Iyengar Yoga as Sadhana?
Abhay: Guruji Yogacharya B. K. S. Iyengar always said, "You practice Yoga and everything will come to you."
As a yoga student, I used to focus solely on the physical practice of asanas. However, as I delved deeper into the teachings of my gurus – Guruji, Geeta ji, and Prashant Sir – I discovered the concept of sadhana. It was Geetaji and Prashant sir who patiently guided me towards this new path, holding my hand like a caring parent. Now, I and my colleagues experience the beauty of sadhana every day.
When I was young, I had an abundance of energy and a desire to explore many different things. But it wasn't until I discovered Yoga that I found the proper path to follow. Through assisting my Guruji in teaching yoga to individuals of all ages and with a variety of physical and mental health concerns, I gained a deeper understanding of the true meaning of Sukh and Dukha.
By learning how to both navigate and combat these challenges, I gained a deeper sense of inner strength and direction. So slowly this knowledge developed, and at a young age, I took the decision to take it as a career as it was a big decision being the first person to take such a decision.
hellomyyoga: Iyengar Yoga has been a part of you at all different stages of life- as a child, as a young man, and as a family man. How has it changed your perception of life at all these stages?
Abhay: Iyengar yoga teaches balance with alignment and that is why it was so nicely experienced and applied in every stage of my life. Guruji set a wonderful example, teaching not just poses, but also insights into family life. As a married man with children, I found it easy to adopt without disturbing my Yog Sadhana practice. In fact, my interest increased! Even my daughters enjoyed their children's classes.
hellomyyoga: How do you develop your patients' trust and patience while treating them with Iyengar yoga?
Abhay: In Iyengar Yogsadhana, at my Institute, it's always a pleasure to teach Iyengar Yoga, in different types of batches. In some challenging batches, no excuses are allowed, but at the same time, in our patient-focused batches, we work with them to provide different poses and supports to aid in their recovery and increase their overall capacity.
In my over 30 years of teaching experience, I've witnessed a shift in the demographic of students seeking Yoga. While in the past, it was mostly older individuals, now more and more young people are attending these classes. It's might not by choice, but a reflection of the changes in the world we live in. With the added complexities of Covid, the need for Yoga has become even more in demand.
At Iyengar Yogasadhana, we approach health problems with a positive attitude and teach the younger generation that fighting against issues is the true solution. Yoga can help increase one's capacity to overcome challenges, not just physically, but mentally and emotionally as well.
At covid time, Iyengar Yoga was a boon. Its incredible health benefits have helped those who are still coping with the aftermath of COVID-19. Even as an individual, we are not the same person every day. Some people may be fit, but still have some underlying health issues, so in classes, they can be treated accordingly immediately.
Our medical therapy classes specialize in effectively treating a range of ailments, including leg and back pain, that affects both seasoned athletes and individuals who are new to physical activity.
Patients are drawn to our classes and love the experience. Our dynamic medical class sequences ensure that each class is unique and patients want to learn more. As they witness their health issues improving, they become more invested in their future well-being and eager to learn how to build strength and prevent future problems. It's no wonder why our ex-patients love us.