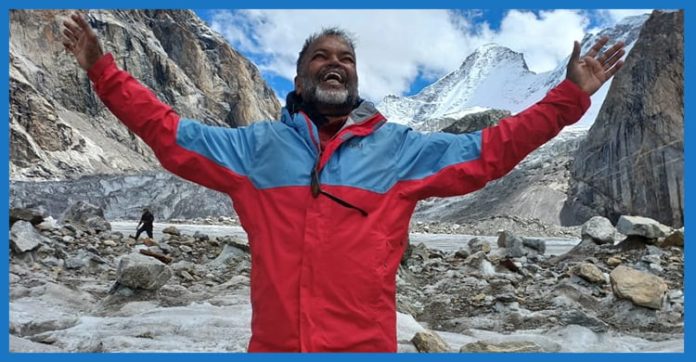 Most people get used to a comfortable job and consequent lifestyle, but that's not the case with Dr. N. Ganesh Rao. The passion for mountains which started about 35 years back still continues fulfilment in the Sahyadri Mountains or the Himalayan ranges.
This despite growing old! While in the earlier years, it was trekking with a rucksack of 20 to 25 Kg on your back, today it is replaced by higher altitudes! It is the breaking of mental barriers arising out of fear, uncertainty, deprivation, and physical exhaustion, … – a furthering of physical and mental limits.
Dr. N Ganesh Rao's passion for mountaineering is awe-inspiring, especially for someone who has been academically oriented, a Finance Executive, a Professional Soccer player and Coach at the topmost level, and now a name to reckon with in the world of Yoga. His feats defy the popular notion of people 'slowing down' with age.
We spoke with the remarkable man to discover what drives him and how his 35-year journey has been. From Pin Parbati Pass, at a lofty 17,500 feet, to the base camp of Mt. Makalu (the fifth-highest peak on Earth) at a whopping 16,750 feet, he has climbed it all.
Furthering his conquests, he managed to cross the Sherpani Col (20,350 feet), West Col (20,150 feet), Amphu Laptsa Pass (18,900 feet), and Kang La Pass (18,000 feet). It is truly incredible that at an age where many settle into the 'comfort zone of safety-first life'.
Dr. Rao proves that "Age is just in your head" and "weakness is only in mind" by conquering some of the most extremely difficult heights.
Chat on The Mat With Dr Rao, Founder of ACT Yoga
This Chat on The Mat delves into the story of this extraordinary individual to gain a better understanding of his motivations, attitudes, and lifestyle that continues to motivate him to keep exploring in his later years.
Dr. N Ganesh Rao is the founder of ACT Yoga, Mumbai, with profound wisdom about yoga and philosophy. He has been enlightening the yoga community while holding several dignified positions in nationally and internationally recognized institutions.
hellomyyoga: What made you fall in love with trekking and mountaineering?
Dr Rao: I like rain, and I am more of a mountain person than of the sea/beaches. I am 'most myself' in the environment of the mountains. The silence of vast space, the music of flowing waters, the sight of endless snow, the towering mountains … too much to describe their effects on one … Pure Nature is just beautiful! After a certain altitude, you don't come across any human beings!
Mountain people are simple and pure at heart without complications in the head, unlike city people.
One of the items listed to be done after quitting my Tata Motors job was to spend more time in the mountains. Hiking is normally a day or two and in lesser altitudes as compared to trekking which is of longer duration and greater heights.
Accordingly, I did more than 25 hikes and more than 5 treks in 2 years.
hellomyyoga: Isn't 50-60 years too old to start mountaineering?
Dr Rao: It is never too old to start any venture or adventure if the call is from the heart.
Even the youngest and the fittest go through the same exhaustion, same stress, and strain. It is a question of how you mentally adapt to your physical and mental states.
hellomyyoga: What keeps you motivated for back-to-back expeditions?
Dr Rao: "Once you have experienced mountains, they literally 'call' you – you are not at peace without being in the mountains".
The experience of serene solitude, the pleasurable pain of extreme tiredness, the visual panorama, the inspiring nature, the closeness with fellow trekkers, ….
hellomyyoga: How has mountaineering changed you? What did it teach you?
Dr Rao: One who has gone through the extreme experiences of mountain trekking naturally understands human nature from very close and better at that – is more accommodating, compassionate, loving, and affectionate in dealings with human beings.
Alone in the mountains, resting in the tent at night with your body fully exhausted, you see the cinema of your past as an impartial spectator – your strengths, your weaknesses, your mistakes, your meanness, your relationships, …..
Trekking is pure meditation. While trekking, meditation happens by default – you cannot afford to be away from the present moment (the next step!) without inviting accidents and disaster. The help of the porters, the cooks, the Guides, and your colleagues – is seen in perspective and appreciated.
Nature makes you realize your smallness as a human being against its majesty and power! Trekking automatically makes you an introspective person – philosophy happens naturally.
The question of the meaning of life inevitably arises. Your list of 'to do when back home' fills your mind.
'Diary writing' is so fulfilling!
hellomyyoga: What advice do you offer to those who are growing older?
Dr Rao: Age is in mind. Time is subjective. There is no time limit for anything in life!