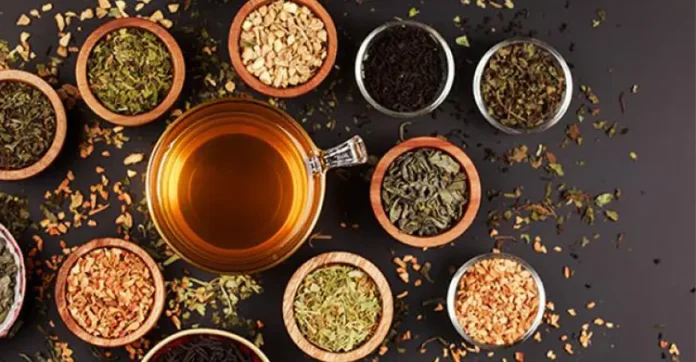 In India, the Winter season is synonymous with comforting food. Just like sugarcane juice, buttermilk, fruit juices, or coconut water are essential summer sips, winter is a time for indulging in hot, comforting beverages that warm both body and soul.
As the temperature drops, it's vital to switch to winter beverages that will keep you toasty inside out. Different regions in the country have their own special and healthy drinks made with spices.
Get ready to indulge in the rich flavors and comforting warmth that these drinks have to offer. Winter calls for nothing but the best!
1. Kashmiri Kahwa
The Kashmiri Kahwa is an extraordinary winter beverage infused with a delightful blend of spices and bursting with nutrition. This heart-warming concoction is made using Kashmiri green tea leaves, simmered in water alongside a blend of aromatic whole spices, nuts, dried fruits, and saffron.
Indulging in this authentic Kashmiri hot beverage not only brings comfort and warmth during the chilly season but also provides a myriad of health benefits. Boosting immunity and nourishing the body, Kahwa is a must-have addition to your winter regimen!
2. Rajasthani Raabdi
It's a hot drink that's popular in Rajasthan during the winter season. This exotic and thick beverage is made with Bajre ka Atta and curd, and it's perfect for warming you up.
Not only is it a healthy option, but it can also help those experiencing severe colds and individuals with a weak appetite. The dish contains bajra, ghee, warm ginger juice, and jaggery, making it rich in iron and magnesium.
3. Jaggery Tea (Gud Ki Chai)
Gud ki chai, is a popular drink in northern India, especially Uttar Pradesh and Maharashtra. It is made with jaggery (gud), which has warming properties and offers several health benefits. This tea is known for boosting immunity, aiding digestion, and being rich in iron.
You can make it by using strong Assam tea leaves along with dry ginger powder and cardamom. For a perfect masala tea with jaggery, just add a pinch of tea masala powder.
Also Read: Ahara Samsksara: Ancient Food Processing in Ayurveda
4. Kanji
Kanji is a traditional winter drink enjoyed in Punjab. It is made with black carrots, which are only available during the winter season. This probiotic drink is great for the gut and digestion.
The recipe includes ground mustard seeds, red chili powder, black salt or regular salt, and boiled cooled water. Mix the carrots, spices, and seasonings, and let it ferment for a few days. Kanji has a dark purple color and tastes best when perfectly matured.
5. Gujarati Kavo
Gujarati Kavo is a winter drink that is great for relieving cold and cough symptoms. It contains a blend of immunity-boosting spices such as carom seeds, fennel seeds, cinnamon powder, cloves, cardamom powder, black pepper powder, asafoetida, dry lemon grass, mint powder, and coffee powder.
Boil these ingredients for 3 minutes, then add chopped mint leaves, basil leaves, grated ginger, and grated green turmeric. Mix well and boil for another 10 minutes on medium heat. Add jaggery and lemon juice, mix again, and turn off the flame. Strain the mixture using a strainer and serve hot in a cup.
6. Rasam
Rasam is a popular South Indian soup that is tangy, spiced, and full of herbs. This traditional drink is a delicious blend of ginger, spices, tamarind, and vegetables, with a tempering of curry leaves and mustard seeds.
It is a perfect choice for cold weather as it keeps you warm and hydrated. The mix of spices and herbs in Rasam also helps in healing sore throat, flu, cold, and cough.
Also Read: 8 Branches of Ayurveda (Ashtanga Ayurveda Explained)
7. Sheera
Sheera is a thick, flavorful liquid made with besan, ghee, milk, turmeric, black pepper, cardamom powder, and powdered jaggery. It is known to be effective in relieving cold and cough symptoms. The sheera can be adjusted to your desired consistency, but it is recommended to keep it slightly runny for maximum benefits.
It provides immediate relief and can be consumed for a few more days until the cold and cough are completely treated. Whether you have seasonal flu or infections, Besan Sheera is a reliable remedy for finding relief from cold and cough.
8. Kadha
The Ayurvedic Kadha, also known as Kashayam, is a highly regarded supplement in the world of Ayurveda. Not only does it boast numerous benefits, but one notable advantage is its ability to enhance the immune system. By bolstering the body's defense mechanisms, kadha acts as an effective treatment as well as a preventative measure in winter.
Winter months often bring a higher risk of infections and diseases. A proactive approach to safeguarding your health is by incorporating the nourishing blend of kadha into your daily routine.
This powerful concoction contains ginger, cloves, cardamom, green tea, cinnamon, and turmeric – a combination chosen for its effective benefits. By adding this kadha to your diet, you can ensure that your body is supplied with vital nutrients, bolstering its natural defenses against illness.
9. Shorba
Shorba, a Mughalai dish, defies tradition by being more than just a regular beverage – it's a drinkable soup or stew. With its origins stemming from the Middle East, this flavorful delicacy has found its way into the hearts (and bellies) of North Indians and Hyderabadis alike, who have crafted their unique variations.
Non-vegetarians simmer the meat in aromatic spices and herbs, while vegetarians replace the meat with vegetables to create a satisfyingly zesty and spicy broth. This winter beverage is a perfect appetizer, guaranteed to add some delightful heat to your dining experience.
Join the online yoga courses by hellomyyoga
Wrapping Up,
So get ready to welcome winter with these delicious beverages! Try them out and share your thoughts. Feel free to personalize the recipes to suit your preferences and let us know your unique variations in the comments. Remember to stay tuned to hellomyyoga blogs for more amazing content.
Read more blogs