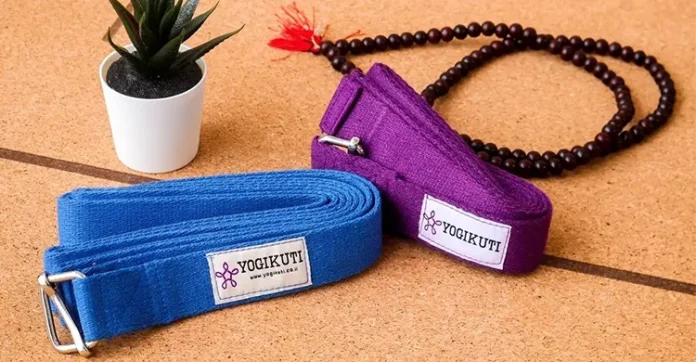 With the ever-growing interest in Yoga, there is a consistently rising demand for various yoga props and accessories. Whether you are a beginner who wants to explore the benefits of a basic routine or an experienced practitioner, this list will help you to choose the best Yoga Props from the trusted Yogikuti store.
We have handpicked some of the most popular yoga equipment, accessories, and props that will add more value to your practice!
Exclusively available in Yogikuti's store, these props are designed for increased safety and comfort during your practice, allowing you to focus fully on your yoga poses and get the most out of your sessions. These props are suitable for a wide range of yoga courses, programs, and poses.
1. Yoga Strap 7ft & 9ft
This Yoga Strap is designed to offer greater stretch and flexibility. It features non-slip support with a durable non-slip buckle. It's ideal for deepening your leg stretches and correcting the alignment for better health benefits.
It is wider (1.25" inches) than a regular yoga strap, making it comfortable and secure to grip. It is made from 100% cotton and is soft and flexible, providing more comfort during stretching. This yoga prop is suitable for all levels of practices.
Yoga Poses You Can Perform With Yoga Strap 7ft & 9ft
Dhanurasana (Bow Pose)
Badhakonasana (Butterfly Pose)
Parsva Upavistha Konasana Variation (Seated Side Stretch)
Product Highlights
Made with 100% cotton
Available in 7ft, 9ft & in customized lengths
Highly stretchable and durable.
Non-slip grip and durable buckle.
Wider than regular belts for better grip.

2. Yoga Wall Ropes 2 Pairs (Long & Small), 2 Pairs Wall Hook Set
Yogikuti's Iyengar yoga wall rope is the perfect prop to intensify your yoga routine. The ropes help you with perfect alignment, length, and balance, which improves your practice and takes it to the next level. 
With the help of these ropes, you can practice Yoga Kurunta (a series of Iyengar asanas) and make great strides in your yoga journey.
Yogikuti's Iyengar yoga wall rope is a versatile and effective prop for yogis to go deeper into their practice. The ropes are knotted with 'grapevine' knots to create handles and sealed off to provide a secure fit.
This set Includes 2 sets of ropes – 1 pair of small and 1 pair of long ropes – along with a wall hook set. Great for experimenting with the backbends, forward bends, inversions, and twists with the additional support of the ropes. It is a top accessory on the list of yoga props to have.
Yoga Poses You Can Perform With this Prop
Bhujangasana (Cobra Pose)
Uttanasana (Standing Forward Bend)
Supta Tadasana (Reclined Mountain Pose)
Shirshasana (Yoga Headstand)
3.Solid Wooden Yoga Block (Pine)
Yoga Blocks are made up of solid pine wood. These Blocks are perfect for those looking to increase their strength and stability during Yoga. The solid wood is not only durable but also eco-friendly and easy to clean, making it suitable for practitioners of all skill levels.
Using this yoga block, you can practice postures with ease, as it provides sturdy support to your arms, legs, and back.
The Iyengar yoga solid block is a great aid for yoga practitioners, especially when mastering poses. The prop can help reach postures more efficiently and upgrade the level of doing them. The block supports the poses and increases the length of the stretches. It is suitable for all levels of practitioners. As one of the most important yoga accessories, it provides the desired health benefits.
Poses You Can Perform With Solid Wooden Yoga Block
Balasana (child's pose)
Adho mukha svanasana (downward-facing dog)
Uttanasana (standing forward fold)
Product Highlights
Made with solid pine wood
Solid – 1kg only
Smooth rounded edges
Corners are smooth to prevent any harm
4. Iyengar 100% Cotton Yoga Blanket (4pc)
Experience the luxurious comfort of our 100% fine Indian cotton yoga blanket. Its exquisitely soft texture will cocoon your body in relaxation. Its tightly woven material is of the highest quality and is designed to withstand any pose you do in your practice. Treat yourself to an indulgent yoga session with our ultra-luxurious yoga blanket.
Yogikuti 100% cotton Yoga Blankets are versatile yoga props that provide an ideal surface to practice yoga postures, deepen stretches and assist with Savasana and meditation. It can also be easily folded into a bolster.
Iyengar yoga blankets are a perfect choice for yoga studios and home spaces. Our 100% cotton Yoga blankets are soft, comfortable, and exude style. They are versatile and can be used on the beach, outdoors as an exercise mat, or even as a picnic blanket. They can also be used as a support prop or to retain body heat after a yoga session.
Yoga Poses You Can Perform
Balasana (child's pose)
Kapotasana (Supported Pigeon Pose)
Product Highlights
Made with 100% soft cotton
Tightly weaved for extra durability
Available in various colors.
Soft to the touch.
Easy to wash and reuse.
5. Yoga Aerial Hammock
Experience the ultimate relaxation, stretching, stress reduction, and back pain relief with Yogikuti Aerial Yoga Hammock. Yogikuti's premium hammocks are made from high-quality material and hardware, including Daisy Chains and carabiners certified to climbing standards.
Enjoy the long-lasting comfort of this hammock for:
Aerial Yoga,
Yoga Swing,
Yoga Sling,
Aerial Dance,
Aerial Fitness,
Air Yoga,
Aerial Hammock,
Aerial Pilates,
Pilates Hammock.
Get your Hammock now and start feeling the benefits!
Things To Remember
Keep Aerial Yoga Hammock away from heat.
Install on the ceiling or heavy-weight bearing places, but never on suspended ceilings.
Wall-to-yoga distance: 1 meter
Distance between Aerial Hammock two ends: 50-80cm
Spacing from the floor: 80-100cm
Consult a licensed contractor for rigging instructions.
Buy other attachments from a professional shop to ensure safety.
Conclusion
In conclusion, Yogikuti is the one-stop shop for your yoga journey. By providing a variety of quality yoga props and accessories, one can make their yoga practice both effective and enjoyable. With Yogikuti's top 5 hot selling list, users will have an easier time getting the right prop suited to their specific needs. Forget compromising your safety and comfort because being well-equipped with the right yoga tools ensures both you and your practice will thrive.
Discount Code
Use code – hellomyyoga to avail the 15% discount on your purchase with Yogikuti.