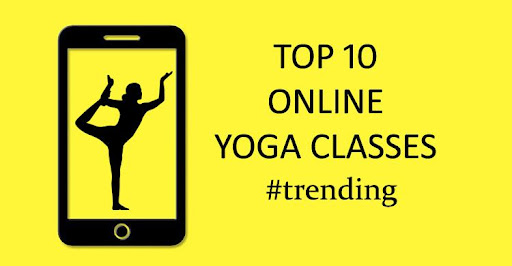 This long duration of confinement has shrunk the world and packed it in a digital mode where anyone and everyone can get access to a healthy way of life. Yeah! Have you ever wondered of learning yoga with mentors whom you've only heard about and wished to meet them someday in their yoga classes? Do you keep shuffling your busy schedule to find resources for yogic sojourn? It is now made possible through online sessions as if yoga found you to refurbish and rejuvenate your life through guided approach by yoga icons.
Here's a list of seasoned and renowned yoga mentors (alphabetically) who have extended their hand to reach out to the masses continuing to spread the pearls of yogic wisdom across the globe:
1. Abhay Javakhedkar
Abhay Javakhedkar, founder of Iyengar Yog Sadhana, Pune, is an adept Iyengar yoga teacher. Abhay was a mentee of Sri BKS Iyengar, Geeta Iyengar and Prashant Iyengar at Ramamani Iyengar Memorial Yoga Institute, Pune for more than 35 years. Abhay has trained and healed people from diverse age groups, background and profession including small children of 8-20 years and women with different physical, psychological and physiological issues. Abhay has conducted yoga classes for sportspeople, IT professionals, NDA, and institutes of repute and has traveled extensively spreading the yogic wisdom.
---
2. Dr. Ananda Bhavanani
Yogacharya Dr. Ananda Balayogi Bhavanani is an adept yoga mentor with an expansive list of credentials- MBBS, ADY, DPC, DSM, PGDFH, PGDY, FIAY, MD (Alt.Med), C-IAYT, DSc (Yoga). He is the Director of the Centre for Yoga Therapy Education and Research (CYTER), Professor- Yoga Therapy at the Sri Balaji Vidyapeeth University, Pondicherry. Dr. Ananda serves as the Chairman of the International Centre for Yoga Education and Research at Ananda Ashram, Pondicherry, and Yoganjali Natyalayam, the premier institute of Yoga and Carnatic Music and Bharatanatyam, Pondicherry. He is credited with over 250 compilations and books, DVDs and other literary works on yoga published nationally and internationally. Dr. Ananda is the first Indian to acquire an IAYT Certification (C-IAYT) by the International Association of Yoga Therapists, USA, and recognized Ph.D. guide for Yoga Therapy. Dr. Ananda holds several dignified positions: Honorary Advisor- International Association of Yoga Therapist, Australasian Association of Yoga Therapists, World Yoga Foundation and Gitananda Yoga Associations worldwide.
He is a key member of numerous expert committees of the Ministry of AYUSH. Dr. Ananda is the EC member and Director of Publications of the Indian Yoga Association and Board of Directors of the Council for Yoga Accreditation International. Dr. Ananda is also a Consultant Resource Person with WHO Collaborative Centre in Traditional Medicine (Yoga) at MDNIY, New Delhi.
Also read: Yoga Teacher Training Courses In India
---
3. HS Arun
Sri H S Arun is the founder of Prashant Yogashraya Retreat, Bengaluru. In 1978 Arunji became the discipline of Guruji BKS Iyengar. He recognized the power of yoga while he was suffering from asthma and religiously followed and practiced Iyengar yoga. Gradually, he devised his own style of teaching based on the fundamentals of traditional yoga and experiential learning. Arunji has been teaching yoga across the globe for over 3 decades. He has earned several prestigious awards and titles for his marvelous achievements and contributions in the field of yoga-Yoga Praveena, Yoga Bhaskara, Yoga Sri, and Adarsha Yogacharya are a few of them.
---
4. M.S. Vishwanath
Known as Masterji, founded Pathanjala Yoga Kendra in 1970 and has been teaching yoga for over 50 years. Masterji has been the direct disciple of his uncle, Sri K. Pattabhi Jois, for 15 years since the age of 10. Masterji has traveled extensively to conduct yoga sessions and courses globally. He has been empowering the students as well as teachers from diverse backgrounds through yoga philosophy, practice, and teacher training. Masterji has earned several recognitions like the Dasara Award for his contribution in the field of yoga and accolades from students for adjustments in asana and zeal of teaching yoga.
---
5. Dr. N Ganesh Rao
A doctorate and professor of yoga and philosophy, Dr Ganesh has conducted over 19,000 sessions of yoga. Dr Ganesh Rao holds prestigious positions in international and national organizations -Yoga Alliance, Mumbai University, Kaivalyadham Institute, and Bharatiya Samskriti Peetham. He is the advisor and member of the Board of Studies, Kaivalyadham, and Sri Sri University. Dr Rao is the torchbearer for research students and has mentored Teacher Training courses for different educational institutions. His focused approach in teaching ensures a holistic transformation of physical, mental, and psychological aspects.
---
6. Saraswathi Vasudevan
Saraswathi Vasudevan, the co-founder of Yoga Vahini, Chennai and Hyderabad has been serving the yoga community for over 26 years now. She is a yoga therapist, teacher trainer and consultant. She learned yoga under the aegis of Sri TKV Desikachar. With several degrees to her credit, E-RYT 500, Masters in Nutrition from Madras University, YACEP and PG Diploma in Yoga, Saraswathi has been associated and with prestigious institutions like Krishnamacharya Yoga Mandiram, Chennai and is presently serving as Board member of Yoga Alliance. She has been instrumental in generating awareness about yoga and need of personalized yoga therapy in the mainstream healthcare of India.
---
7. Srivatsa Ramaswami
A E-RYT 500 certified Srivatsa Ramaswami is the disciple of legendary yoga teacher Sri T Krishnamacharya. He stayed under his aegis for 33 years trained in various disciplines of yoga like Vinyasa yoga, chanting, Vedanta, Upanishads and Samkhya Karika and also acquired teaching acumen. He has spread the teachings of Sri T Krishnamacharya worldwide through his books, recordings and teaching methodology. Sri Ramaswami's in-depth wisdom about the effect, purpose, and science of yoga associated him with various reputed organizations like Ramachandra Medical University, Krishnamacharya Yoga Mandiram, Kalashetra and Yoga Brotherhood.
---
8. Surinder Singh Yoga
Surinderji is an adept Hatha yoga mentor and founder of Swasti yoga, Rishikesh. He acquired yogic learning from Guru Sri Swami Dharmananda of Ved Niketan Ashram, Rishikesh. Surinderji utilizes his scientific knowledge in devising asana techniques for correct alignment and posture. Surinderji ensures that the practitioner of every level achieve holistic development with practice through supportive, positive, and light-hearted approach. He conducts several Teacher Training courses and workshops of Hatha Yoga involving Asana, Pranayama and Meditation with a deep philosophical base.
---
9. Yogi Vishvaketuji
A Himalayan Yogi and founder of Akhanda Yoga Ashram, Rishikesh, has been imparting yogic wisdom for over 40 years now. He applies a contemporary approach to traditional knowledge – Asanas, Pranayama, Mantra, and Meditation with a strong philosophical base for present-day yogis. Vishvketuji learnt Hatha Yoga and Pranayama from Yogi Nath at Kanwashram. He is an MA and Doctorate in Yoga Philosophy from Gurukul Kangri University. Yogi Vishvketuji also imparts training for Yoga Alliance registered programs, Rishikesh and Canada. He has authored several books on Yoga, Ayurveda, and philosophy and reaches out to every yoga seeker through his classes, retreats, literature, and digital resources.
Also read: Indian Yoga Goes Digital Amid Pandemic
---
10. Zubin Zarthoshtimanesh
Zubin, a dedicated Iyengar yoga teacher is the founder of Iyengar Yogabhyasa, Matunga. He acquired yogic wisdom from revered Sri BKS Iyengar for 27 years. Zubin has traveled extensively with guruji assisting him in conventions and workshops and has been instrumental in spreading yoga through workshops, conferences, demonstrations and literature. As a teacher, Zubin allow practitioners to evolve and explore their individual practice with mind, body and soul completely. He believes in constant learning always discovering new dimensions of practice.
---
Join the online yoga courses by hellomyyoga